Our project

REScoop MECISE is a Horizon 2020 PDA project that aims to mobilise citizens and municipalities in the transition to a more sustainable and decentralised energy system.
With support from the EASME, a consortium of established energy cooperatives developed projects for renewable energy and energy efficiency. We also set-up a financial facilitation service for energy communities and foster collaborations between energy cooperatives and local municipalities.

The projects developed through REScoop MECISE go beyond "business-as-usual". We do projects that private investors find not interesting either because of their complexity or because of their limited profitability.
Community-owned energy projects can bring considerable benefits to the local community: they trigger new sustainable energy measures, motivate citizens to get involved in the energy transition, create local jobs and generate stable returns for the community's investors.
---
Our achievements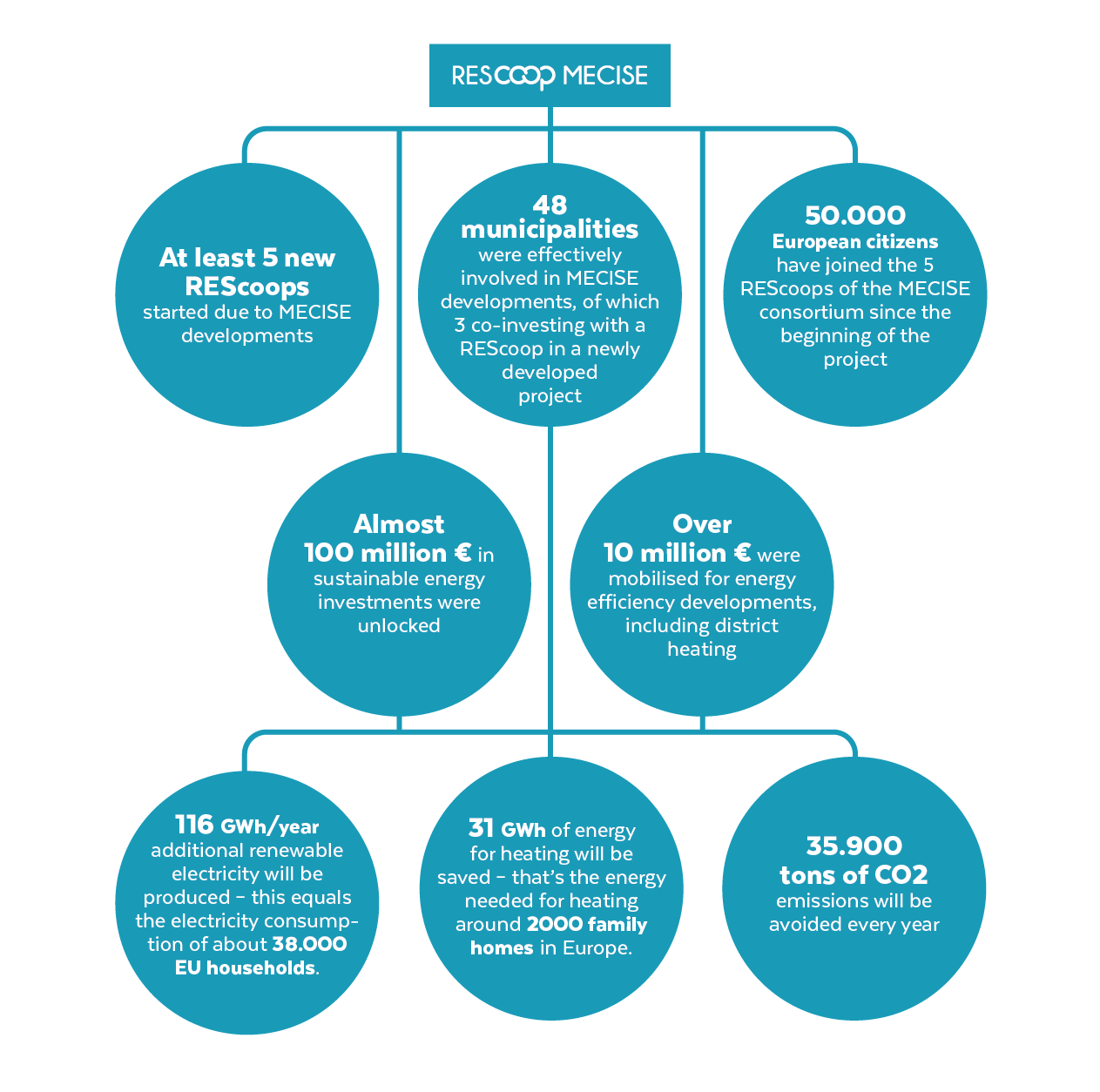 ---
Our book

At the beginning of 2019 Europe had more than 3.400 REScoops (Renewable Energy Sources Cooperatives), or as defined in the recent EU-directives, 'Citizen Energy Communities'. More than a million Europeans are united in these REScoops to jointly invest in the energy transition from fossil and nuclear fuels to renewable energy and energy efficiency. There are many more Europeans at home who are also committed to reaching this goal in their daily lives. They are investing in insulation, solar water heaters, in pv panels, electrical mobility, etc.
Five REScoops from four countries teamed up with their European federation REScoop.eu in the framework of the European Horizon 2020 programme run by EASME. Between March 2015 and February 2019 they achieved the goals set in their Project Development Assistance (PDA) project, called REScoop MECISE ('Renewable Energy Cooperatives Mobilising European Citizens to Invest in Sustainable Energy') and created tools for themselves and other groups of citizens to accelerate the energy transition.
This project ran in parallel with the process of designing new EU-directives on energy: the Clean Energy for All Europeans package. This recognized EU citizens and their collective projects were essential stakeholders in tackling Climate Change. The report also highlights how the project partners responded to this.
---
Our brochures
We developed a series of attractive brochures to disseminate our main achievements. The documents also contain interesting examples of how REScoops can team u p with local authorities, including municipalities, to keep the energy transition in the hands of citizens.
---